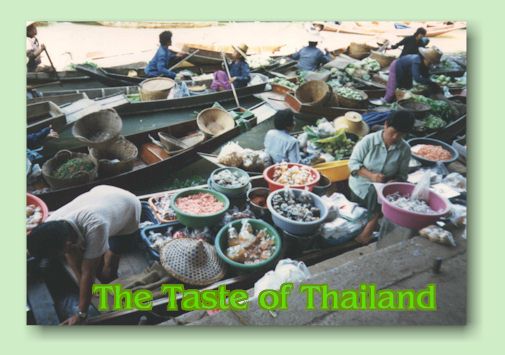 Thai Starters - Spring Rolls, Thai Style
(Serves 8-10)
Ingredients
1 - 2 oz transparent vermicelli noodles (obtainable from Chinese supermarket)
2 - 4 oz cooking oil
1 onion, small, chopped finely
1 clove garlic, chopped finely
4 oz minced lean pork, chicken or beef salt, pepper, fish sauce, soya sauce, sugar to taste
1 oz carrots, grated
2 - 4 oz beansprouts, chopped coarsely
2 spring onions, chopped finely
10 spring rolls or pancake skin (obtainable from Chinese supermarket)
1 - 2 medium size egg omelet, shredded
1 - 2 oz mushrooms, washed and sliced thinly cooking oil for deep frying

Garnish
details
Method
Soak the transparent vermicelli noodles until soft. Cut into short strips, 1 - 1 1/2"
Heat the oil and cook the onion and garlic until soft or brown.
Add the minced meat, mushrooms, noodles, salt, fish sauce, soya sauce and sugar. Stir well, cover and lower the heat.
Add the carrots and spring onion. Cook for a few more minutes then add the shredded omelet. Stir gently. Add chopped beansprouts. Drain off any liquid and leave cool.
Spoon the stir fried mixture onto the pancake skin and wrap in long or square panels as desired. Secure the edges with egg or water or with a mixture of water with cornflour dissolved in it.
Heat the cooking oil. Deep fry until crispy and brown all over.

Serve with chilli sauce or white radish.
---
Sweet Corn Fritters
(vegetarian version)
Serves 4
Ingredients
1 clove garlic
1 sprig coriander root
8 oz sweet corn - tinned (drained) or frozen (if frozen, thaw)
1 small onion, peeled and finely chopped
1 egg
2 oz cornflour
2 oz plain flour, salt, ground pepper and sugar to taste, cooking oil for deep frying
Garnish - chopped peanuts and coriander leaves

Garnish
details
Method
Peel and finely chop the garlic and coriander roots. Then pound them into a fine paste, using a pestle and mortar.
Chop the sweet corn into small pieces, or use a blender and blend coarsely.
Add the rest of the ingredients and mix well in a large mixing bowl.
Put mixture in blender and blend for a few seconds.
Heat the cooking oil and deep fry the mixture, using a dessertspoon for each portion. Flatten slightly and fry until golden brown all over. Drain and rest on paper kitchen towel.

Serve hot with chilli sauce, chopped peanuts and coriander leaves.
---
Return to the Main Cookbook Menu
---
Fuengsin's Home page | Paul's Home page