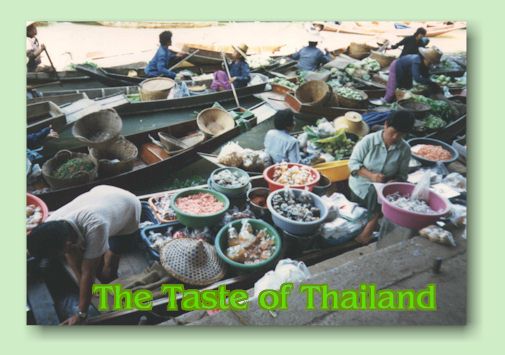 Crispy Noodles with Crab, Chicken and Prawns
(Serves 4)
Ingredients
oil for deep frying
2 pieces dried egg noodle - Bamee - (from Chinese supermarket)
4 oz cooking oil
2 - 3 cloves garlic
1 small onion
4 spring onions
1/4 lb chicken breast (boned)
2 oz frozen peas
1 oz cornflour
1 oz water
2 oz frozen prawns
2 - 4 oz tins crab meat
4 oz frozen prawns
1 tbls light soya sauce
1 - 3 tbls fish sauce, salt and pepper to taste
1 beaten egg yolk

Garnish
spring onions, chopped
Method
Soak the noodles in hot water until soft and then drain.
Deep fry the dried noodles until golden brown and crispy all over. Drain and put in serving dish.
Peel and coarsely chop the garlic and onion.
Wash and chop the spring onion into 1" lengths.
Wash and slice the chicken breast thinly into 1" - 2" lengths.
Mix the cornflour well with 1 oz water.
Heat 4 oz of the cooking oil. Fry the coarsely chopped garlic and onion until brown. Add sliced chicken and stir fry for 10 minutes. Add frozen peas, crab meat, prawns, soya sauce, fish sauce, salt and pepper, beaten egg yolk and mixed cornflour. Stir well. Simmer for 5 - 10 minutes, stirring occasionally. If too dry add two or three ounces of water. Let it simmer for a few minutes then pour it on top of the crispy noodles. Serve immediately.

Garnish with chopped spring onions and serve with chilli sauce.
---
Return to the Main Cookbook Menu
---
Fuengsin's Home page | Paul's Home page