Dhamma-Talaka Peace Pagoda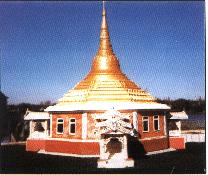 The Pagoda is an oriental style of sacred tower. In Buddhism, it is called a cedi (caitya or stupa in Sanskrit). The Pagoda symbolises peace, compassion and the noble exemplary qualities of the Buddha. It is the earthly manifestation of the mind of the Buddha and, as such, stands as the prime symbol of Buddhism for all Buddhist traditions. Birmingham is becoming an international city, rich with a multitude of religions, races and cultures. Apart from a variety of churches, there are now beautiful mosques, Hindu Temples and Sikh gurdwaras in the city. However, there is no Buddhist site of architectural beauty yet. This is one reason for looking forward to building the Pagoda. This will add to the city's growing cultural merit and interest to tourists from all over the world.
The Birmingham Buddhist Vihara (a registered charity) was founded in 1978 by the Venerable Dr. Rewata Dhamma and its activities have been increasing over the years. As well as holding a variety of retreats and our own course on the basics of Buddhism, we have become the focus for a large number of visitors from educational and other institutions. We need enlarged premises and would also like to offer facilities to the large number of Buddhist groups of various traditions in our area who do not have enough space or resources. In order to provide these we applied to the City Council and were granted a piece of land near the Edgbaston Reservoir on which to develop a peace pagoda, residential quarters, and a Dhamma and ordination hall. This project has captured their interest and our progress is followed by them with some enthusiasm. The land was consecrated in 1990 at a ceremony in which Buddhists from several traditions participated.